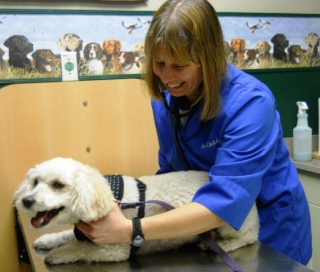 Physical exams are one of the most important parts of your pet's visit from birth through old age. Annual exams are necessary for all pets including indoor, outdoor and exotic animals. Seeing your pet at least once a year allows us to establish a relationship and familiarity with you, your pet and your pet's individual needs. We recommend annual exams for pets under the age of 7 and biannual exams for pets over the age of 7 to keep up with the common problems associated with aging. Puppies and kittens usually require 3-4 exams every 3-4 weeks in conjunction with their vaccine series, similar to pediatric visits. During these important exams we monitor your puppy or kitten as they grow, making sure they are healthy and all of your questions are answered every step of the way. Your pets do not have to be due for vaccines or sick to have an exam, as preventative medicine is of huge importance.
What does a physical exam by a veterinarian tell us?
A physical exam tells us many things about your pet. Our veterinarian assesses your pet's health and major systems looking for abnormalities and signs of illness or disease. Catching diseases and problems early often allows for more successful treatment and better outlook for your pet. It is also very helpful to have an established healthy baseline of what is "normal" for your pet, should your pet become ill in the future.
What do we assess at during a physical exam?
Mouth and teeth
Eyes
Ears
Skin and coat
Muscular system
Bones and joints
Palpation of internal organs
Auscultation of heart and lungs
Neurological system
Behavior
Nutrition
What else will we talk about at your pet's exam?
Recommendation of diagnostics for internal health such as blood work, urinalysis, etc
Vaccination recommendations based on your pet's individual lifestyle
Appropriate monthly parasitic preventions
Answering any questions or concerns you may have