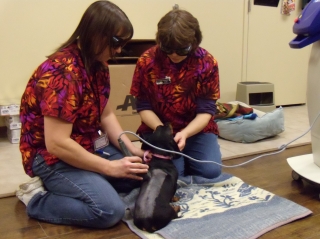 What is laser therapy?
Cold laser therapy uses measured light to accelerate the body's healing process. The laser beam is moved over the patient's skin and penetrates the tissue stimulating the healing process at varying levels.
Why is laser therapy used?
Laser therapy is used to stimulate healing for many patients. Because it helps reduce swelling, pain, and speed up the healing process on soft tissue injuries it could be used for almost any case from patients suffering from muscle or joint pain (either from aging or injury) to skin or ear problems. Because of the improved healing benefits we will always recommend post surgical laser therapy if your pet has a surgical procedure done.
Here are just a few benefits of laser therapy:
Anti-inflammatory effect
Analgesic (pain relief) effect
Accelerated tissue repair and cell growth
Improved vascular activity
Improved metabolic activity
Stimulation of trigger points and acupuncture points
Reduced fibrous tissue formation
Improved nerve function
Immunoregulation
Faster wound healing
What's involved?
If you think your pet would benefit from laser therapy all you need to do is schedule an appoinment with any of our veterinarians. Once the veterinarian has determined the appropriate laser therapy plan for your pet, you will bring your pet in for an appointment at the determined frequency (usually once a week to start) and the laser therapy will be performed by one of our licensed technicians as your pet comfortably rests with you.
Meet Ruger, one of our laser therapy patients!
In October of 2011, Ruger a 4 year old Brittany Spaniel had a traumatic incident involving a bumper and the side of his face. This accident resulted in his skin being peeled back from the side of his face as well as multiple dental fractures and the exposure of his bone. Surgery and cold laser therapy yielded much better results than any of us expected. Watch this video to see the benefit that laser therapy had for Ruger. It is important to note that these results happened over only a 6 week time frame.
You can learn more about laser therapy from Cutting Edge Lasers by clicking here.