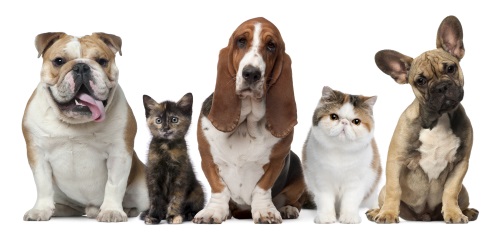 In today's economy it can be difficult to afford the level of preventative and wellness care you want to provide for your pet. Many times loving and responsible pet owners have to decline important wellness recommendations such as bloodwork due to finances. In an effort to help our clients provide the care their pets need, we are proud to introduce our new monthly wellness plans for cats and dogs.
What are Wellness Plans?
Wellness plans are a program you enroll your pet into for a period of one year on your chosen plan. There are three levels of wellness plans (Bronze, Silver and Gold) each offering a different level of preventative care for your pet. It is important to note that these plans are not pet insurance. These plans all include unlimited exams, all recommended vaccines, one screening bloodwork and urinalysis panel and one parasitic fecal screening for your pet throughout the year. The silver and gold plan offer a 12 month supply or flea, tick and heartworm prevention as recommended by a veterinarian specifically for your pet. The gold plan also includes a dental cleaning (without extractions or optional services) and a screening x-ray looking for concerning masses which can be common in older pets.
How do they work?
One of our assistants will explain the difference between each plan and help you select a plan appropriate for your pet. We will then have you sign into a 12 month contract indicating that your credit card will be charged the predetermined monthly amount (based on the plan you chose) and the terms of the contract. Your credit card (Mastercard, Visa, American Express or Discover card) will then be securely added to our PCI compliant merchant system and will be debited monthly for the remaining 12 months. Your first payment will be on the day you purchase the plan and will include the plan enrollment fee of $25 dollars. (Initial payment costs vary on plan level)
Are all services covered if my pet gets sick?
No, the wellness plan only covers the wellness services listed within the plan contract. Should your pet become sick or require any services other than those listed on the plan you would be responsible for payment at the time the services are rendered. However, if your pet is on an active wellness plan, you are entitled to unlimited exams, so the exam would be covered.
What is the benefit of these plans?
The services listed are not discounted, although exams are unlimited. Flea, tick and heartworm manufacturer promotions are not available for pets within on the Silver and Gold plans. The primary benefit of these plans is being able to use the covered services while paying for them over the period of 12 months with an automated debit. This allows your pet to receive the recommended wellness preventative care while being able to budget out your payments over time.
Are there plans for puppies and kittens?
Yes there are! Click here for more info!
Services not listed within plans are not covered and you would be responsible for the cost of those services at the time they are rendered.