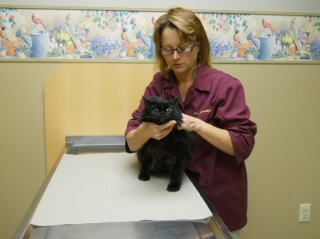 Dr. Gayanna Gilbraith Has achieved certification in Animal Chiropractic through the international Veterinary Chiropractic Association (IVCA).
In order to be eligible to be certified, Dr. Gilbraith first had to complete over 220 hours of intensive coursework and testing in spinal manipulation, anatomy, and functional neurology at Options for Animals, a nationally and State Board of Education approved facility in Kansas. She then had to pass written and practical examinations administered by the IVCA certifying her competency in animal chiropractic.
Animal Chiropractic is not meant to replace traditional veterinary care. It is an effective and valuable means of restoring and maintaining strength, vigor, and well-being. By examining each motion unit (especially the spine), areas of decreased mobility are identified and a very specific thrust is adminstered to help that unit move more normal. These treatments are especially beneficial to animals with acute or chronic musculoskeletal problems such as back pain and arthritis. Chiropractic care is also an outstanding maintenance for working dogs, agility dogs, or dogs competing in other physical activities.
Dr. Gilbraith also offers chiropractic care as a referral service for patients of other veterinary hospitals. If you think chiropractic care may be beneficial for your pet, you can download a brochure here and discuss it with your primary veterinarian. Your veterinarian can then fill out a referral form, which can be be downloaded here and sent to us. Once Dr. Gilbraith discusses your pet with your primary veterinarian, you will be contacted to set up appointment. If you have any questions you can either call our office at 315-699-0050 or email us at [email protected].
Looking for more information on chiropractic care? check out this link!