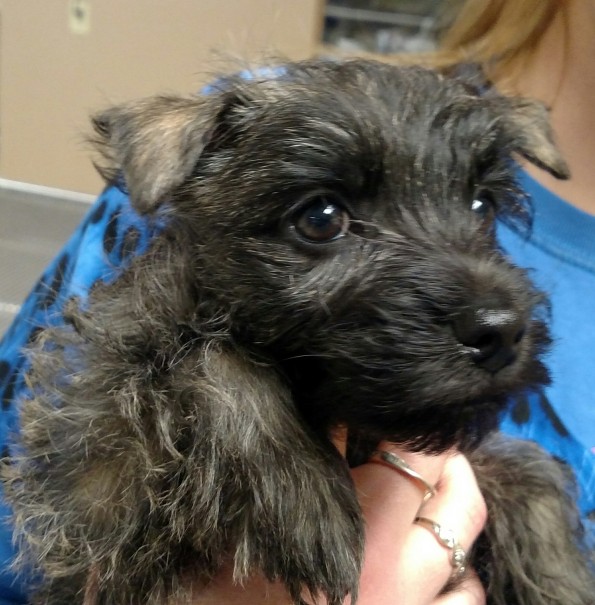 By Dr. Gayanna Gilbraith, DVM
The day to pick up my puppy!
I still do not know if I will be taking home a boy or a girl- kind of like giving birth to your own child before the days of ultrasounds (wow- that is probably a pretty small memory crowd LOL). But I check out of my hotel and head out to Blair Hill Kennel in Wyoming, MN.
Diane Blair was very gracious, and allowed me to "put my hands" on just about ALL of her dogs. She tutored me in their strong points, and their faults (there are no perfect dogs) and continued to educate me on the Cairn terrier breed.
The litter of four puppies was anxious for attention, and absolutely adorable. After Diane and I looked at each puppy, and discussed its strengths for conformation (Diane's specialty), and agility, we both decided that the little girl puppy was for me. She is active and mischievous, and had nice confirmation in her legs (important if she is going to be zooming around the agility ring 😀 ).
So, after a busy morning playing and handling Cairns, I packed up my little girl Robyn and headed to the airport: I am not a seasoned traveler, but the GPS on my phone was behaving itself, and I made it back to the airport without incident. Robyn made her debut in the waiting area as we waited for our flight. She was tired enough after the activity that she slept the whole flight until Chicago.
After a brief stop in Chicago, where Robyn had a nice little drink (just water- she is a little young for the harder stuff), and ate a few kibble, it was back in the crate for the final leg to Syracuse. Quiet as a mouse, she slept the whole way back, I don't think anyone even knew she was there.
Safe arrival home!